« making a fun-foam stamp | Home | Banner-dragon »
By Janne | April 27, 2009
I am currently working on two wedding-dresses. But in addition to that I am also working on a 17th of May (Norway´s national day) banner for a local school. There are probably strict traditions on how to make these, and I will try to keep some of them, while just as eagerly try to re-new others. 
It will be about 100 x 75 cm, all in duppion silk. Applique and machine-embroidery, and a  fabric-paint stamped pattern. Here are the colors I can play around with:

The stamp I made in two sizes, out of fun-foam, was based on a piece of decor I found on the old alter in Norway´s (probably) oldest stone-church (ca. 1030 A.D.) Which by chance happens to be in Moster, my neighbouring "town" (and also where the school is,  who wants the new banner). Anyway. So far I have decorated two of the fabrics, and cut out the silhouette of the volcanic mountain on the island (Siggjo), and part of the scenery from Moster.
Below is rough draft, just by placing the cut fabric in place.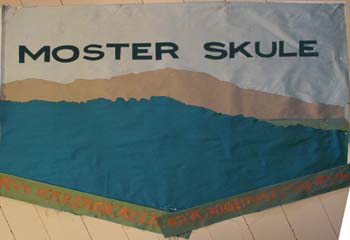 And here is a picture of the text I´m printing. It´s also a copy from the old church, this time from the old bell that now is stacked away in the attic. It says:
AVE.MARIAGRACIAPLENADOMINVSTCVM
and is an old catholic prayer. Spelled the old way too, apparently.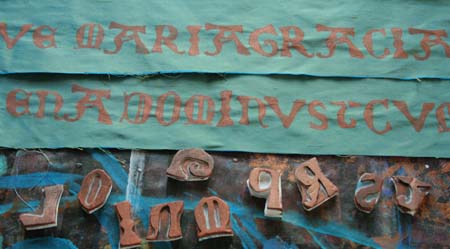 The three pictures below are actually one and the same. Amazing how the light "colors" the fabric.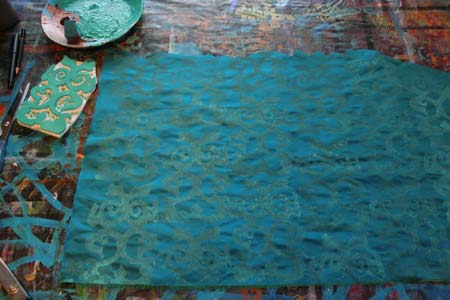 I should really be done with this by Friday, so I need to get started on the embroidery tomorrow. Stay tuned!
Topics: Diverse, Teknikk | 2 Comments »
2 Responses to "Banner"
lulu Says:
April 28th, 2009 at 08:07

Hi Janne,

I love seeing your beautiful artistry in fabric here – the lace, the garments – everything you do! Thanks so much for the tutorial on fun foam stamps – I'm definitely going to run out and get some to try that out!
🙂 lulu

Birgitte Says:
April 28th, 2009 at 23:26

You are bursting with creativty here! It is lovely to see all you are working on, and I can't wait to see what they all turn into! As always, I am convinced it will be gorgous.
Comments