« Kjerstins dress, part 2 | Home | Banner »
By Janne | April 27, 2009
I use stamps that I make out of fun-foam for different purposes.  They work well with fabric-paint on fabric, with acrylic on paper, and probably other surfaces as well. They are easy to make, and easy to use. 
Below you can see the process, as I am make a stamp inspired by a decoration on an old alter in an even older church. Here is part of the alter: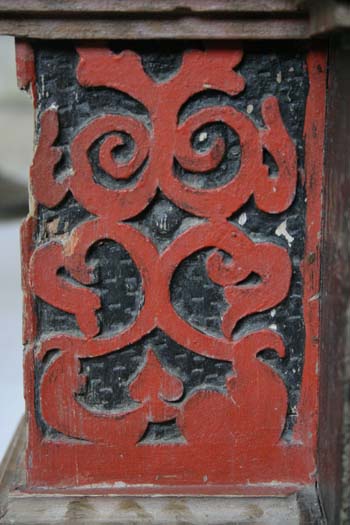 Make a photo-copy of the image you want to make a stamp of. Draw with a soft pencil around the edges. Turn the copy, place it on the fun-foam (mose-gummi) and rub hard against the back of the paper. This should transfer the pencil-line unto the fun-foam, so you can see where you want to cut.
Oh, yeah, the best option for fun-foam is the 9 mm. It is thicker than the ones you´ll find in the play-section, and while it is more of a job to cut it, you reduce the risk of spilling paint where it shouldn´t be.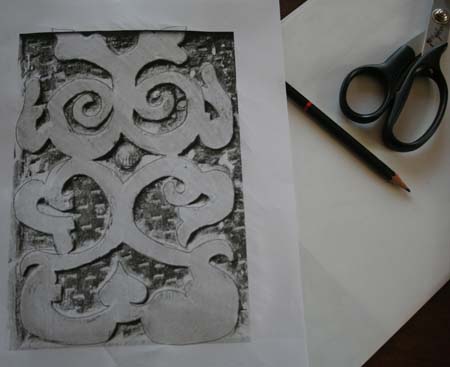 Use a sharp knife, and by all means, a hard surface underneath the foam. Hardwood or a hard-plastic. Something you´re not afraid of getting marks in. Also, when cutting in thick foam, try cutting only half-way down first in the fine detailed areas. This will make it easier to get the lines nice.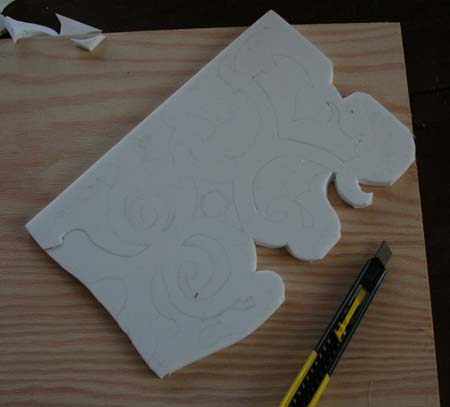 When you´re done, glue it onto another piece of fun-foam with a strong glue. I use a special shoe-glue (!), but I am sure other types of strong glue will work too.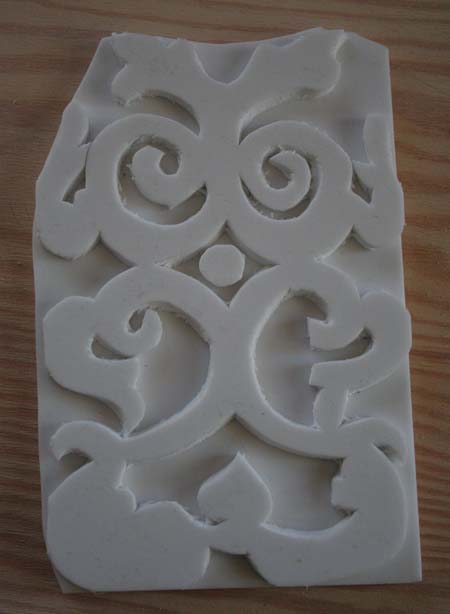 And then, I am ready to give it a try. This time on fabric.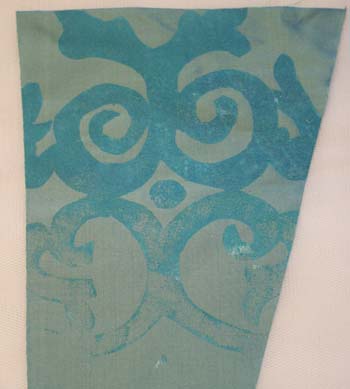 You can see the finished result on my blog in a week or so, for this particular stamp.
Topics: Teknikk | 3 Comments »
3 Responses to "making a fun-foam stamp"
michelle allen Says:
April 28th, 2009 at 00:41

you are awesome! this is so cool. i'm going to have to try it. can't wait to see whay you're going to do with it!

thank you so much for all your clever clock ideas. i'm working on new designs right now and i've been looking through your list and seeing which one's i think i could do justice illustrating. 🙂

congrats on the new commission!

xoxo,
michelle

Deirdra Doan Says:
April 28th, 2009 at 06:52

Wow this sounds like fun! Did you make the letters too! I am loving all your posts!!!

spotogspindel Says:
April 28th, 2009 at 12:13

I made the letters too, yes. I copied them from the old church-bell. they look kind of funky middleage. Too bad they didn´t use the whole alphabet! 🙂
Comments