« Banner | Home | Eidesvik reception »
By Janne | April 29, 2009
I´ve been working on the banner, and not been completely satisfied, but I realize that this is because I´ve only been working with the background, and it needs something… more! So today I made a big ornament on one side of the banner It is an old viking silver broach  found in an archeological dig some years ago, not far from Moster. The dragon was a popular motive in the old viking-ornamentation, and since Moster has a very strong, national viking-history, I thought it was natural to bring in this element. 
First I made a huge copy of the broach to transfer onto the silk fabric. Then I machine-embroidered it on to the background.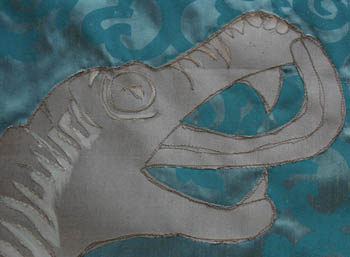 And since it looked kind of flat, I decided to paint it.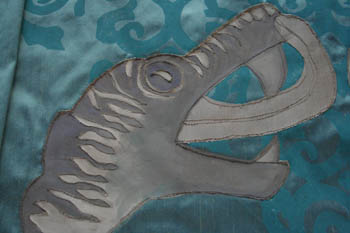 I used a mix of acrylic and fabric-paint, and certainly hope it will hold! Iredecent blue black acrylic that hopefully will give a nice shimmer, and opaque white fabric paint, in different mixes. It still doesn´t look as if it is hammered in silver, but it isn´t as flat any longer. I can´t remember doing this before, so it was kind of experimenting as I went along.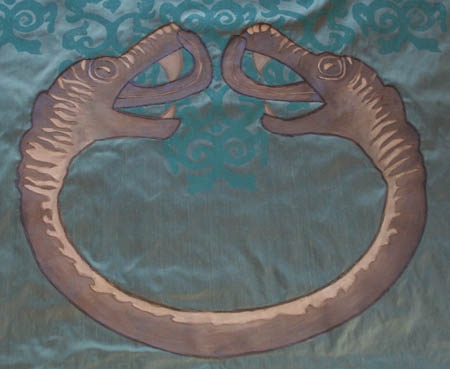 The fun thing, is that it changes in the light, and from what angle you look at it. which is one of the reasons I love silk!

Topics: Diverse | 4 Comments »
4 Responses to "Banner-dragon"
Comments