« Ombord Skandi Seven | Home | Skandi Seven »
By Janne | September 25, 2008
Denne veka er eg i Haugesund og jobbar med Narnia. Endeleg er eg i gong med syinga. Stine Salvesen og Lone Jørstad hjelper til med produksjonen, seinare kjem Tanja Huglen og. Og hjelp trengs. Her er mykje pels som gjerast om til ulvar, hyene-orkar, kaniner, mus, rev, og kanskje til og med eit pinnsvin. Og sjølvsagt løva og heksa. 
Premieren er 5. desember, og det blir forestillingar fram til nyttår. 
Elsa Aanesen spelar heksa, Brynjar Stautland løva Aslan, Nina Sele og Bjørn Andre Widvey er Fru Bever og Herr Bever, Knut Gjelle Angell er faunen Mr. Tumnus.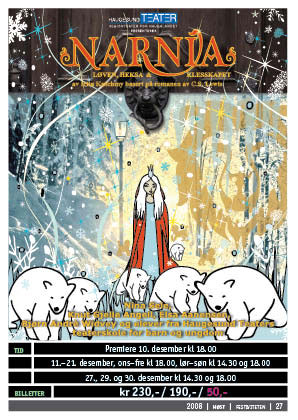 This week I am finally in  Haugesund working on the production of the Narnia-costumes. We are only three people sowing, and have a lot of unsown fake fur waiting to become mice, rabbits, wolves, foxes and even a porqupine. And ofcourse the lion and the witch!
opening night is December 5th, shows run till New-years.
Topics: Kostymedesign | No Comments »
Comments