« Skandi Seven | Home | Art-links-directory.com »
By Janne | October 19, 2008
Dei siste vekene har eg jobba i Haugesund på teateret der med Narnia. Etter å ha tekna masse i sommar, var tida komen til å produsera kostymene til hovedrollene. (Stine, med hjelp av Tanja og Lone, er alt godt i gong med kostymer til ensemble.) Under er det eit bilete av den Kvite Heksa, spela av Elsa Aanesen. Bilete er tatt bakfra, og viser litt av kostymet: fleire lag skjørt, det øverste skal kunne brukast som slede(!), frostrose-armar og isbre-korsett.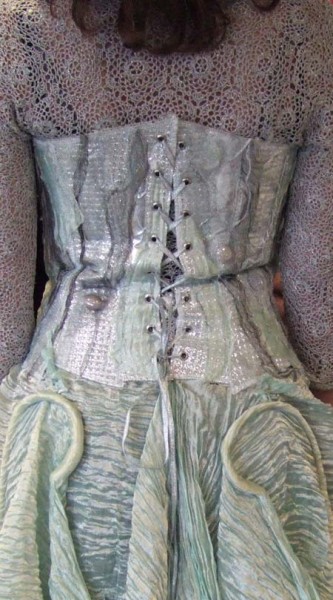 The past weeks I´ve been busy in Haugesund at the theatre, working with Narnia. I drew most of the scetches this summer, and now it was time to start the production of the main-characters costumes. (Stine, along with Tanja and Lone, are well into the ensembles costumes). Below is a picture of the White witch, played by Elsa Aanesen. The picture is taken from behind, and shows part of the costume: several layers of skirts, one of which can be used as a sled(!), frostroses on her arms, and a glacier-corset.
Topics: Kostymedesign | 1 Comment »
One Response to "Narnia in progress 2"
Korsettmaedchen.Wordpress.Com Says:
December 27th, 2013 at 20:31

Woah this weblog is wonderful i really like examining the articles you write. Keep within the good work! You realize, lots of people are shopping around just for this data, you are able to aid these folks drastically.
Comments