« Kostymekurs 2 | Home | Skandi Flora »
By Janne | January 26, 2009
Den neste musikalen til BML i Moster Amfi blir  

  
Musikk: Claude-Michel Schönberg  Tekst: Richard Maltby jr og Alain Boublil
Denne produksjonen er lisensiert i Norge av Josef Weinberger Ltd, på vegne av Music Theatre International i New York, etter avtale med Cameron Mackintosh.
Framsyninger 5. – 16. august 2009 kl 22.00!
For billettinfo og praktisk informasjon: Â Â saigon@bml.no
Hendinga i musikalen føregår i Saigon under Vietnamkrigen på 1970-talet. Den fortel ei sterk historie som inkluderer kjærleik, tragedie og håp. Som ein moderne versjon av "Madame Butterfly", fortel ein her om ei dømd romanse mellom Chris og Kim, ein amerikansk soldat og ei ung vietnamesisk kvinne.
 
The next musical in Moster Amphi-theatre is MISS SAIGON
Music: Claude-Michel Schönberg  Lyrics: Richard Maltby jr and Alain Boublil This production is lisenced in Norway by Josef Weinberger Ltd, on behalf of Music Theatre International in New York, with Cameron Mackintosh.
Shows August 5th to 16th 2009 at 10 PM.
For tickets and information: Â saigon@bml.no
The story is set in Saigon during the Vietnam-war in the 70s. It is a strong story of love, tragedy and hope. Like a modern version of "Madame Butterfly", here is a story of a doomed romance between Chris and Kim, an american soldier and a young vietnamese woman.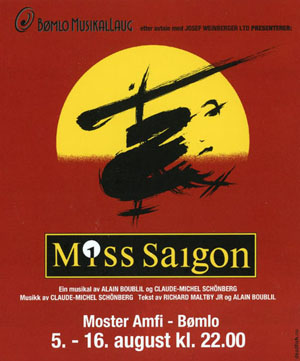 Topics: Diverse | No Comments »
Comments