« Mariannes-hjarte | Home | Mariannes kjole blir til »
By Janne | May 5, 2009
I går gjorde eg ferdig banneret til Moster Skule. Her er bilete av fram- og baksida.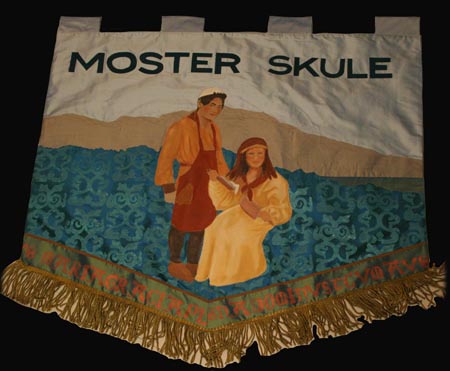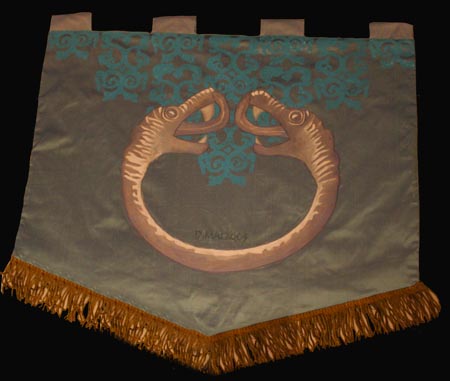 Framsida har bilete av Siggjo, den nesten-vulkanske fjellet på Bømlo, med Moster i front. Hovudmotiv er to viking-ungar. Moster Skule hadde i mange år ein viking-leir rundt Mostra-spelet. Her lærte ungane gamle teknikkar som spinning og smiing. Mønsteret i bakgrunnen er frå gamle Moster kyrkje og kyrkjeklokka. 
Den andre sida viser ei gammal sølv-nål frå viking-tida, funnen på Spissøy, like ved Moster. Den er sjeldan, og eg syns den passar godt inn i det eg syns er typisk for Moster: historie, kultur og religion.
http://www.bomlo.kommune.no/skuleportal/index.asp?topExpand=&subExpand=&strUrl=//applications/system/publish/view/showobject.asp?infoobjectid=1009083&channelid=1000382&s_id=1000228;1001253
Over er ein link til Moster skule si nyhende-side, der det står om den nye fana deira.
Topics: Diverse | 2 Comments »
2 Responses to "17.mai fane!"
Deirdra Doan Says:
May 6th, 2009 at 05:29

Oh thank you for posting this…fun to see the process..and it is very cool looking. Did you paint the children on cloth? I know were the stamp came from and all the symbols…so fun

spotogspindel Says:
May 6th, 2009 at 09:32

First I machine-embroidered them in silk fabric on to the background, and then I painted over it. I used a mix of acrylic and fabric-paint.
Comments