« Viking Veritas | Home | Skandi Patagonia »
By Janne | June 24, 2000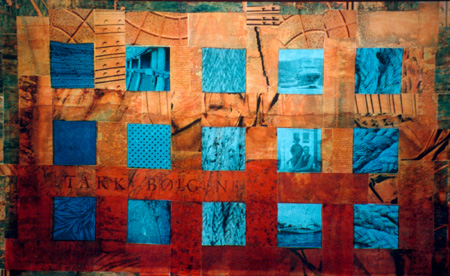 Eidesvik & Co AS sin supplybåt fekk eit stort bilete på konferanserommet.
"TAKK BØLGENE" heiter det. Eg malte på tjukk silke, og overførte foto av diverse rusta metall, og tauverk. Og eit bilete av Lauritz Eidesvik som liten gut med sin far ombord i ei skøyte klarte eg å snika inn.
For Eidesvik & Co AS´s supplyship, I delivered a large picture for the conference-room. 
"THANK THE WAVES" was the name of it. I painted on thick silk, and transferred pictures of rust and ropes, and managed to sneak in a picture of Lauritz Eidesvik as a young boy with his father.
Topics: Diverse | No Comments »
Comments