« Making lace fabric | Home | Kjerstins dress, part 2 »
By Janne | April 21, 2009
Here is a peak of what will become Mariannes wedding dress. The fabrics are silk crepe de chine and silk chiffons. And she made the glass beads herself! I always like asking the bride to contribute in the making of her own dress, and this is perfect!
She is very into symbols, and the wide waistband will be covered with them. Some common and some special to her and her future spouse. That will be the big creative challenge on this dress: to translate all her interest visually into symbols in a relatively small area. So far i know there will be at least two mountains and a boat  in addition to the glass-pearls around her waist. This could get interesting!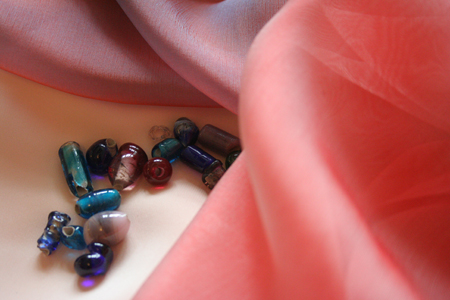 I just had to add a picture of her lovely shoes she got in Singapore. They are designed by Christian Louboutin.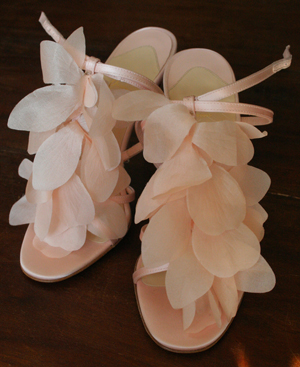 The design will be kind of Marilyn-Monroe in-the-white-dress-ish, but not quite. I will of course post pictures as the progress moves along. So far I´m working on the mock-up to make sure the pattern fits.
Topics: Diverse | 3 Comments »
3 Responses to "Mariannes wedding dress"
Deirdra Doan Says:
April 22nd, 2009 at 19:30

Oh how I love pink! Looking forward to seeing the dress.

Tanja Huglen Says:
April 23rd, 2009 at 08:46

Nydelige sko. har du dekorert di?

Tanja Huglen Says:
April 23rd, 2009 at 08:48

No såg eg at dei var kjøpt i Singapore….uansett heilt nydelige!!!
Comments