« Kardemommeby | Home | VERTÜ og Siggjo song & streng »
By Janne | December 29, 2012
Kvart år gir Finnås Kraftlag ein kalender til alle sine kundar, og for 2013-kalenderen har eg hatt den store gleda å ha ansvar for både innhald og utforming/lay-out. (Jaja, ikkje akkurat sikkerhets-informasjonen, men alt det andre 😉 Med eit opplag på 5000 kalendarar er dette eit svært ærefullt oppdrag!
Brorparten av arbeidet er lagt ned i dei 14 bileta som er med i kalenderen. Alle motiva er frå Bømlo, frå ulike stadar rundt i kommunen, og med ulike tema. Ulike årstider, ulike miljø. Nokre portrett, nokre reine natur-bilete, nokre samtidige, andre historisk inspirerte… Hovudtanken er at alle skal kunna kjenna seg igjen i bileta, og å setja pris på det vakre landskapet her ute i øyane. På framsida ser du Siggjo ruva over skjærgarden ved ankomst nordfra. Siggjo og skjærgarden To av dei mest typiske tinga ved Bømlo, og to av dei tinga me som Bømlingar er mest stolt av, om eg ikkje tar feil.
Her er framsida: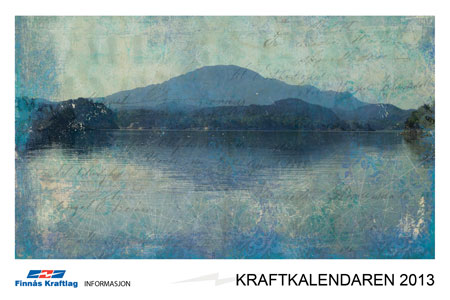 Tusen takk til Finnås Kraftlag, som tar så aktivt standpunkt i si støtte til det lokale kulturlivet! Dei brukar mange hundretusener kvart år på å støtte alt frå søndagskular til songkor til skyttarklubbar. Bømlo ville vore ein langt kjedelegare stad å bu, utan det rike tilbodet av frivillige lag og organisasjonar.
Topics: Diverse, grafikk | No Comments »
Comments