« Eidesvik & Co AS kontor | Home | Utstillingopninga »
By Janne | June 20, 2008
(english will follow)
Eg skal ha min første separatutstilling på Bømlo i Kulturhuset. Opninga er klokka to den 21. juni. Eg har nett vore i kulturhuset og montert tilsammen 75 ulike arbeid. Nokre er gamle, fra 2002 og framover, men dei fleste er laga spesielt til denne utstillinga. Tittelen viser til ein portrettserie på tilsaman 17 bilete av folk eg kjenner, nokre fra Bømlo, andre fra Stord og Haugesund. Bileta er i foto-collage og alle sit og held eit barnebilete av seg sjølv, (så det blir ein slags før-og-etter bilete samtidig) og i bakgrunnen ligg det ein handskriven tekst, der modellen har skrive om korleis vedkommande trudde livet skulle bli når han eller ho vart vaksen. Sidan det vart så mange spennande tekstar har eg samla dei og trykt dei i ei bok som og vil ligga på utstillinga.
Det er og ein serie bilete frå olderfar min sitt hus. Der har det ikkje budd folk på iallefall 40 år, så det er ganske nedslitt. Eg har kombinert bileta med gamle foto av oldeforeldrene mine, samt ulike dekorative element, for den rette maksimalistiske effekten.
Utstillinga skal vera open heilt til midten av august, så det blir spennande å sjå kor mange folk som tek turen innom. Alle er hjartleg velkommen, i alle fall!
Nedanfor ser du morfar min: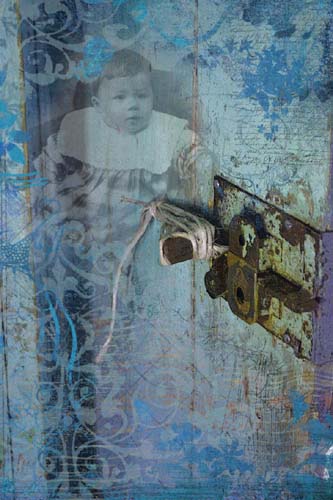 Tomorrow and until the middle of August I have my first solo-exhibition in Bømlo. Around 75 pieces of artwork, most of them especially made for this exhibition. The title refers to a series of portraits of people from the district, and shows some of their childhood dreams, what they thought life would be like.
The picture above is from another series, from my great-grandfathers house. The house has been empty for over fourty years, and is now used as storage bee-keeping-stuff!
If you pass by Bømlo kulturhus this summer, stop by, and have a look!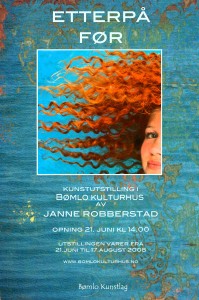 Topics: Diverse | 1 Comment »
One Response to "ETTERPÃ… FØR (before after)"
Lennie Says:
May 29th, 2009 at 22:07

This is so lovely!
Comments